RENERTEC GmbH, based in Brachttal / Hessen in Germany, close to the city of Hanau, was established on the 3rd of August 1995.
The company's subject matters are the planning, commissioning and management, both technical and commercial, of renewable energy power plants, allied with the procurement of financing and equity. The Company is registered under No. 12427 within the Commercial Section of the District Court in Gelnhausen.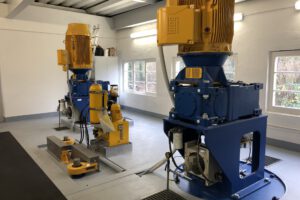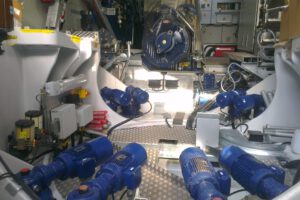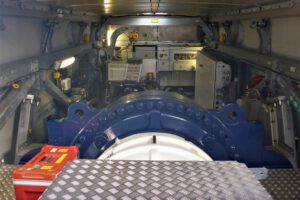 Business Targets
At the time of the Company's foundation, a new situation of energy generation was clearly emerging, which has now been established as common social awareness and has proved itself to be technically feasible:
The change of the power supply industry took place from large, centralised power stations to small, decentralised units, exploiting sources of renewable energy and orientated towards regional supply and local energy consumers.
RENERTEC GmbH supports actively the realization of this new decentralised energy sector and contributes to the so called "Energiewende" (energy change).
Plants producing energy from renewable sources (we are primarily dealing with hydro-electric plants and wind turbines) impressively demonstrate to consumers how sustainable natural energy resources, such as the sun, wind and water, can supply electricity.
The currently still important sources of energy like oil, gas and coal, emit during the transformation into electric current heating, and automotive power toxic waste substances and cause climate change.The process is inefficient and heats up the environment unnecessarily, if cogeneration is not used.
In contrast natural sources of energy such as sun, wind and water are continuously available and usable without any depletion of natural resources or contamination of the environment.
Our Vision for the future
The regional based decentralised energy production will in the future be completed by the utilisation of storage media which make it possible to consume electricity on demand.. Accumulators are even used to store smaller amounts of energy - even in batteries of electric cars of private owners.
For storing greater amounts of energy the European grid will be improved and extented. The main reason for this is to use the great capacity of pump storage plants e.g. in Switzerland or Norway. This will make it possible to provide great quantities of100% renewable energy to all parts of Europe.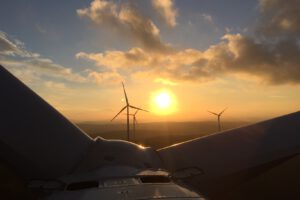 Our point of view towards the matter of energy production and enviroment protection
Energy production technologies and environmental protection are connected to each other and have now become one sole target. Consequently, climatic risks, characterised generally as the "greenhouse effect", can no longer be ignored. Global warming, in the meantime confirmed by scientific measurement, and the emission of toxic gases (primarily carbon dioxide) produced by the burning of fossil fuels, have rapidly developed to an intolerable burden of our climate, demonstrated by the weather extremes, such as extensive flooding and excessively dry summers.
In the Federal Republic of Germany, for example, one third of total carbon dioxide emission derives from conventional electricity production by burning coal.
Significant reduction of carbon dioxide emission is achievable only if radical changes will be introduced in all processes where fuel is burnt - whether in power plants, industry, households, or in the traffic sector.
This involves:
utilization of renewable energy as soon and as many possible from wind- and solar power
the use of all feasible means of saving energy
high efficiency of energy production in conventional power plants as long as they are still use
storage of renewable produced electric current e.g. in accumulators and pumpstorage plants
Consistent pursuit of this new course will, in the long term, make us independent to present ernergy sources, over which we have little control and whose future availability is by no means certain.
Who is behind the RENERTEC Company and what is its modus operandi?
Renertec is a family enterprise.
The Company was founded by Gerhard Eckert, a graduated diploma engineer from the technical university Darmstadt, who gained long term experience as Director of the Electricity Production Division of Siemens AG, where he was manager of many international projects of the construction of power-generating plants and their services in particular nuclear power, before he founded his own enterprise.
In 1998 he has devoted himself fully to renewable energy techniques. During his time at Siemens AG and before of KWU AG, the Siemens power plant subsider, numerous contacts with leading European and North American electrical energy experts were established, and the resultant exchange of information and experience has contributed to the definition and achievement his ownthe Company's policies.
Beside of his occupation at Siemens AG, Mr. Eckert was also appointed to the Board of a start-up company located in Bad Homburg, Germany, where he became responsible for the planning, erecting and operation of various types of power plants utilising solely renewable energy especially wind power and hydropower, not only in Germany, but also in Italy, Greece, Portugal und Spain.
Christoph Eckert, a graduate mechanical engineer, is in charge of organisation, planning and execution of new wind power projects an management and administration of existing wind- and hydro power plants. He joined the company in 2004 and will manage the future activities in the field of the new energy business as the junior head of Renertec.
Fritz Gemmer, a master of science, is a projectmanager at Renertec and actively involved in the project development of wind farms, hydroelectric power plants and photovoltaic systems. He corresponds purposefully with authorities, municipalities, private individuals and other business partners for the purpose of implementation and the success of the projects. In addition, since 2011 he has been responsible for the acquisition and implementation of new projects and, with Renertec GmbH as a partner company, completed the extra-occupational master's degree at the THM to become a master of science.
Stefan Schmidt, electrical engineer, is mainly active as technical manager of the renewable energy generation plants of Renertec. As a former workshop manager and specialist in electrical system construction, he has many years of extensive practical knowledge, which he uses very well in the support of Renertec's power generation systems. Mr. Schmidt also has medium-voltage switching authorization.
Steffen Muth, master electrical engineer with a focus on energy and building technology, has been supporting the technical management team with full commitment since September 2018. He previously worked in the field of electrical planning and implementation in the real estate industry and also has 20kV switching authorization. Collectively with Stefan Schmidt, he is committed to ensuring the smooth operation of all systems, as well as documentation and communication with customers.
Since March 2014, Michaela Reifschneider started as senior accountant of Renertec. She has aquired excellent knowledge in previous positions with other medium sized businesses.
Diana Gaul has been part of the Renertec GmbH team since August 2019 as an assistant to the management.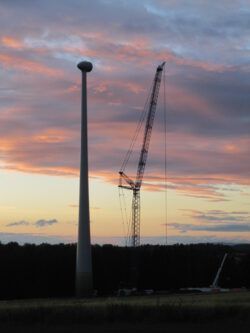 Outside business partners are closely connected to RENERTEC andavailable at all times to advise on:
engineering planning of all environmental aspects
environmental engineering
wind measurement and wind availability prediction
electrical techniques for feed in current into the public grid
earthhandling an construction engineering
hydraulics for the exploitation of water power
control and automatisation of hydro-electric power plants.
operational management of wind parks and hydro-electric plants
building and operation approval procedures
aquisition and development of sites and their associated infrastructures
electro-technical planning for feed in of the current to the public grid
construction an installation of the necessary roads and plant sites as well as the cabeling
financial planning and procurement
consulting on legal aspects and contract law
RENERTEC grined considerable experience in the field of operations and technical supervision of power plants, having been involved since 1985 in the operation of remote-controlled hydro power plants and since 1998 in the technical management of various wind parks. In addition to this, extensive experience of preventive maintenance was accumulated during the founders long years work in the Siemens power plant sector. The significance of preventive maintenance will grow rapidly in the near future E.g. for wind power plants. This contributes to highest efficiency of power plants beeing taken care by Renertec.
Highly important is the long-term close co-operation with expert engineers in the following specialised sectors.